"You were once a powerful leader of a distant tribe with the ability to harness power totems of nature. With these omnipotent  powers you guided them.
Three neighbouring tribes who are at war have taken control, scattering your people and totems across distant lands. You must now guide them to become a powerful tribe once again, collecting your totems and overthrowing those who stand in your way.
Begin your Reprisal to reclaim your history …"
Created in homage to Populous, Reprisal lets you take control of a tribe, guiding them, building land and making them grow in number. Using special totem powers you can control nature itself unleashing its full fury on anyone that stands in your way. But be warned, other tribes may not take too kindly to your intentions and will put up a fight!

Reprisal's universe currently spans over 30 island campaigns pitting you against 3 other tribes - each with their own aggression  traits, 15 totem powers, 8 full length chip tunes by Eric Skiff and 4 terrain types.
Help Reprisal get released on Steam by voting on Green Light.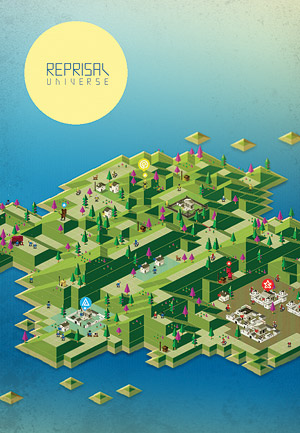 Limited edition print
It's nice to hold things in your hands, so why not get your fingers all over this limited edition and signed A3 Print? It's like owning a little bit of Reprisal's history ... and also supports us!
A3 art print - £20.00

A3 limited edition, hand signed and numbered art print, on 315gsm art paper.



UK and Europe

Rest of the world

Please note prints are printed on order
Postage and delivery will be added